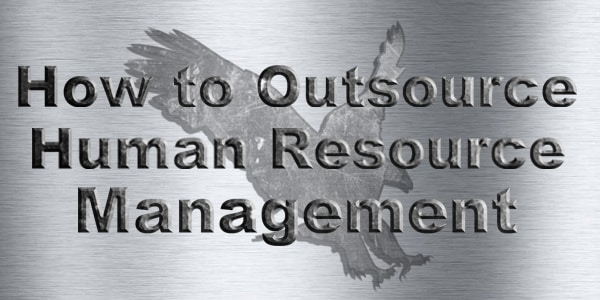 How to Outsource Human Resource Management
These 6 steps are designed to help companies decide if it would be cost-effective to outsource human resource management, and if so, how to do so.
Step 1:
Map out the current human resource management functions. List all the functions that the HR department provides, from employee recruitment to exit.
Ex. Recruitment & Selection, orientation, performance management, compensation and benefits, training, career development, succession planning, exits.
Step 2:
Identify areas of the human resource management operations that need to be implemented or improved. This will aid in deciding if the company should outsource human resource management, and help locate the right fit for the company's needs.
Step 3:
Calculate the cost of the HR department. Also, keep the opportunity cost in mind. What is the core business of the company? Compare the amount of time and effort the company spends on income producing activities to the amount of time spent on human resource management. Compare the cost of the HR department to the cost of an HR outsourcing service. Remember that hiring an HR outsourcing service does not necessarily mean firing the current HR staff. Many HR outsourcing services can accommodate by hiring the current staff to implement and maintain the new HR outsourcing service. Or, many employers choose to re-direct HR employees to other income producing functions of the business, such as billing.
Step 4:
Learn about the available service options for the company's needs. HR outsourcing comes in many forms. Some clients benefit the most by entering into a co-employment relationship with a human resource provider, such as with a PEO (Professional Employer Organization). Other clients benefit the most by utilizing an HRO (Human Resource Outsourcing) service.
Tip: If the PEO has better state unemployment rates, and also has better workers compensation rates, they will probably be a more cost-effective option. If the company looking to outsource HR currently has great SUTA and WC rates, then an HRO will probably be a better solution.
Step 5:
Find an expert representative or broker for an HR outsourcing service. Look for a broker that understands the specialized HR functions that are particular to the clients industry. The broker should possess analytical competence, and be able to identify cost-effective solutions for the client. If the broker has a number of successful implementations and client testimonials, this will be a favorable indicator of the broker's competence.
Step 6:
Purchase and Implement. The new human resource management provider will help implement the outsourcing service. This will include timelines, resource allocation, communication, etc. A good service provider will provide a seamless transition that is cost-effective for clients.
If you would like a specialist to help outsource your human resource management, call 214.952.8696, or email mike@eagleemployerservices.com.
For more information regarding how human resource outsourcing services are able provide the same (Or better) services while saving clients' money, read: http://eagleemployerservices.com/peo-model/.
Outsource Human Resource management | Eagle Employer Services
https://eagleemployerservices.com/wp-content/uploads/2014/06/How-to-outsource-human-resource-management.jpg
300
600
Mike Smith
https://eagleemployerservices.com/wp-content/uploads/2017/09/Eagle-Metal-Logo-w-name2.png
Mike Smith
2014-06-16 18:17:43
2016-02-24 15:58:47
How to Outsource Human Resource Management