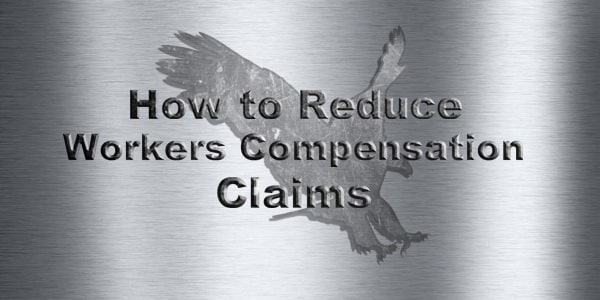 How to Reduce Workers Compensation Claims
The cost of workers compensation has a tremendous impact on a business, so it is critical for employers to know how to reduce workers compensation claims. The first thing  to understand is that there are two aspects of claim reduction: loss prevention, and loss control. Of course the biggest cost savings comes from loss prevention. Review the list of tips and strategies below to audit the claim management of the business in question. Asses which policies need to be implemented, or improved.  Be sure to incorporate employees in the company's efforts to reduce workers compensation claims. Employees will be more productive and motivated towards the company's efforts if they are involved.
Loss Prevention
Make Safety a priority.
Write a safety control program.
Incorporate safety rewards and discipline (Incentives should include safety accountability for supervisors).
Train supervisors how to respond to an injury, including first aid administration.
Regular safety meetings.
Educate employees on all equipment and job duties.
Incorporate a questionnaire of previous injuries to the new hire process. If the employee has a history of injuries, do not hire them.
Match people's physical abilities with their job tasks.
Communicate the cost of workers compensation, and how claims can adversely hurt the company. Ask employees for ideas on how to improve work place safety (Hawthorne Studies).
Establish a drug free workplace policy (Include random drug tests, and test all new employees).
Properly maintain tools and equipment in properly working order.
Insist on a clean work environment. Clutter hinders productivity and increases risk.
Analyze Work Comp Claim History
Is there a pattern of losses from particular employees, departments, or work locations? Do more losses seem to occur during the care of a particular supervisor? Eliminate work place hazards that have contributed to a previous claim.
Loss Control
Claim Management
Provide quick medical attention. This can be the difference between a big and small claim.
Use a preferred medical provider, not a "Doc-in-the-box".
Complete accident report. Include photographs, witnesses etc. Be quick, accurate and proactive.
Have the doctor test for drugs. A failed or refused drug test can be used to deny claim.
Return to work program. Incorporate light duty. If there is not anything for them to do, find something! This requires fewer benefits from insurance company, which would otherwise increase premiums. Light duty also saves money on additional labor that will be needed while the employee cannot work. Injured employees may not refuse light duty, if the request is reasonable. If they do, this can be a basis for the insurance company to drop any benefits being paid. Studies show that employees on light duty return to work faster than employees who are not offered light duty.
Stay in contact with injured employee.
Have management go with them to each doctor visit. Review prescriptions with the doctor, some prescriptions are expensive and not necessary.
Audit legal and medical bills for accuracy and appropriateness. Ensure that expenses are not being unreasonably inflated.
Investigate for Fraud
Hire an investigator.
Did the employee list previous injuries on new hire application? Does he/she have an extensive history of WC Claims? This can be an indication of fraud.
Consider partnering with a PEO
PEO's have experts that can help with all of these processes. The co-employment relationship gives the PEO proper incentive to reduce claims, because employees are covered under their master WC policy. They want to maintain a good relationship with their WC carrier. Whereas a typical WC carrier can simply inflate the actual losses of the claim, and pass the expenses on to the client via increased WC rate. Reducing workers compensation claims are a great way to reduce workers compensation expenses. To learn how to get a workers compensation quote, read our article: http://eagleemployerservices.com/how-to-purchase-workers-compensation-insurance/. For any advice or assistance, email Mike@eagleemployerservices.com
How to Reduce Workers Compensation Claims | By Mike Smith
https://eagleemployerservices.com/wp-content/uploads/2014/06/how-to-reduce-workers-compensation-claims.jpg
300
600
Mike Smith
https://eagleemployerservices.com/wp-content/uploads/2017/09/Eagle-Metal-Logo-w-name2.png
Mike Smith
2014-06-24 18:11:43
2016-02-24 15:48:30
How to Reduce Workers Compensation Claims